1) Industrial insect farming: an alternative and sustainable source of protein
According to UN projections, the world's population is expected to increase by 2 billion over the next 30 years (from 7.7 billion today to 9.7 billion in 2050). In fact, this strong demographic growth will lead to a significant change in our consumption and eating habits over the next few decades.

The evolution of production methods in agriculture is at the heart of this issue: the FAO estimates that world food production will have to increase by 70% and meat production (pork, beef, poultry) will have to double to feed the world's inhabitants. This demographic challenge poses a number of questions, in particular the increase in animal protein requirements.
The interest of insect proteins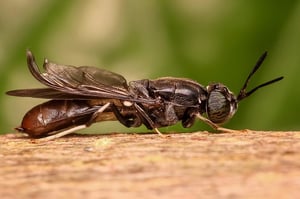 The increasing pressure on natural resources caused by our production and breeding methods is pushing researchers and economic actors to consider alternative sources of sustainable protein supply for human and animal food.

This urgency has led for several years to the recognition of the interest of insect proteins, in particular the black soldier fly (hermetia illucens) and the miller beetle (Tenebrio molitor).
Their production, which uses very few resources (water, land, food), significantly reduces the environmental footprint (GHG emissions, deforestation) of livestock production.